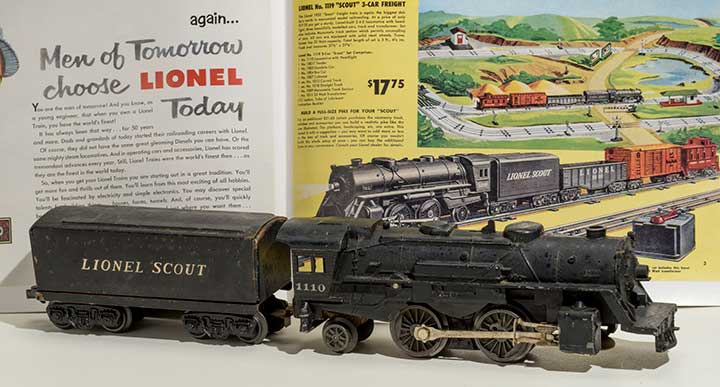 For many model railroaders who grew up in the 50's, toy trains and the holidays are synonymous. I still have the first Lionel Scout™ set my dad gave me for Christmas so many years ago. His gift was the start of a lifelong hobby that fuels my imagination as much now as it did then. I well remember eagerly waiting for the latest Lionel catalog and then getting totally lost in its pages. I could easily see the trains on my 4 x 8 foot sheet of plywood traveling through that vast artwork-inspired empire.
Today, I can give substance to that imagination, bringing those dreams into reality. I classify myself as a "hi-railer". Although I use three-rail track, my layout would be considered "scale". I don't use any oversized accessories, and generally try to make everything look as realistic as possible. While I don't use a "fast-clock" or timetable operations, the trains usually run with a purpose. I really enjoy setting out and picking up freight cars at various industries. For me, this is what the hobby is all about.
For others, the joy is the "toy" in the train. I readily admit-- a "toy-train" layout has a charm all its own. Reality falls by the wayside with giant gatemen and larger than life crossing signals protecting the roadways. Unencumbered by scale fidelity, one is free to play with operating coal loaders, raise a noisy bascule bridge, or place passengers on brightly colored tinplate stations. There is a childlike innocence about such layouts, and therein lies the magic.
There are some, however, who are caught between the two ends. They love their toy trains, but yearn for something more realistic. Somehow they just never get there, and the layout, if there is one, just stagnates. Maybe they're frustrated perfectionists, or otherwise convinced that they don't have the necessary skills. Well, I'm here to tell you that I was one of those people. My first layout never went anywhere, because I was too afraid to do anything. When I started on my present layout, I decided to just go for it! I had read all the books, and dreamed all the dreams. So over the ensuing years, I've had a lot of fun doing all those things I'd never done. In the process, I figured out that it's not all that difficult.
Still, when I go down to the basement to play with my trains, I'm often transported back to those carefree childhood years. . . And even though I don't run that first Lionel Scout™ train, it's Christmas all over again. It really is true... Model railroading is fun!